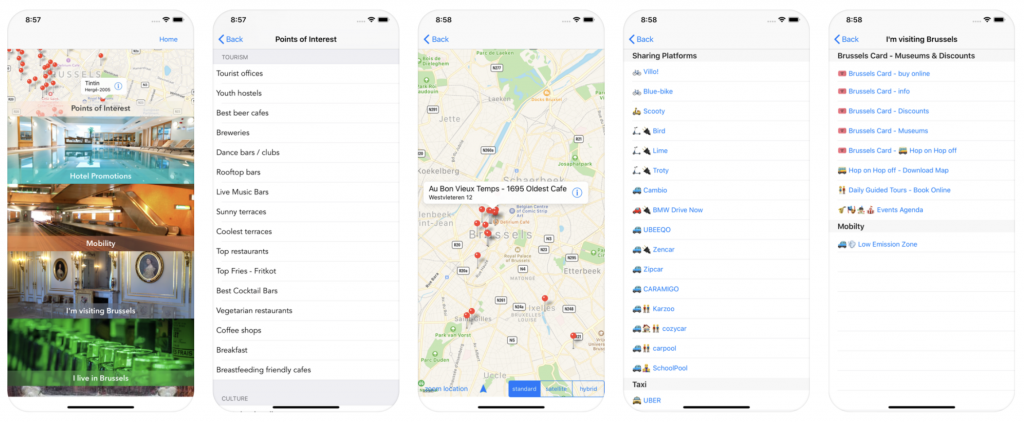 GoBrussels is THE app you need when you live in Brussels or you are visiting as a tourist.
It contains over 50 Maps with very cool information, click on the POI icons to see more details about them and let your iPhone route you to those locations. Most of touristic ones are curated by hand and selected by people who live in the city for long time.
On top of that you have all the Activities and Festivals at your fingertips. Activities like Music, Sport, exhibitions, flea markets, theatre…
Maps with the following Points Of Interest;
Mobility
– Collecto
– Villo
– Cambio
– Zen Car
– Ubeeqo
– Train stations
– Bus stops
– Taxi stands
– Tesla chargers (whole Belgium)
Parkings
– Public
– Motorbike
– Disabled
– Bike Boxes
Tourism
– Tourist offices
– Youth hostels
– Best Beer Cafes
– Breweries
– Dance bars / clubs
– Rooftop bars
– Sunny Terraces
– Top Restaurants
– Top Fries – Fritkot
– Vegetarian restaurants
– Coffee shops
Culture
– Comic book walls
– Cultural places
– Street art
– Theatres
– Mannenken Pis – Jeanneke Pis – Zinneke
– Museums
Sports
– Petanque cours
– Outdoor multi sports grounds
– Swimming pools
– Sport Halls and stadiums
Nature
– Parks
– Invasive exotic plants
Food
– Food trucks
– Markets
Leisure
– Movie theatres
Institutions
– European institutions
– Police stations
– Churches
– Mosques
Animals
– Dog toilets
Miscellaneous
– Drinkable water
– Recycle parks
– Public toilets
– Public computer rooms
– Public Wifi
– Public Internet Access Points
I have chosen to make the app mainly in the English language mainly for the tourists.
The maps with the POIs are stored on your device, the other information is only accessible when you have an internet connection.
If you have issues, suggestions or other remarks, please contact:
7redbits@gmail.com