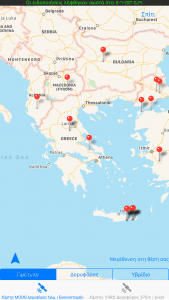 iReport Fire is an application that gives satellite information of active and recent burnings. It aims to help people making decisions before going on the road. Also new is that users can report fires with the app to share their location.
If you have any support question or want to contact the developer, just email to 7redbits@gmail.com.
—
O iReport Fire é uma aplicação que fornece informações de satélite de queimaduras ativas e recentes. Ele visa ajudar as pessoas a tomar decisões antes de entrar na estrada.
Se você tiver alguma pergunta de suporte ou quiser entrar em contato com o desenvolvedor, envie um email para 7redbits@gmail.com.
—
iReport Fire es una aplicación que proporciona información de satélites de quemaduras activas y recientes. Su objetivo es ayudar a las personas a tomar decisiones antes de salir a la carretera.
Si tiene alguna pregunta de soporte o desea ponerse en contacto con el desarrollador, envíe un correo electrónico a 7redbits@gmail.com.
—
iReport Fire è un'applicazione che fornisce informazioni satellitari di bruciature attive e recenti. Esso mira ad aiutare le persone a prendere decisioni prima di andare in viaggio.
Se hai qualche domanda di supporto o desideri contattare lo sviluppatore, inviate un'e-mail a 7redbits@gmail.com.
—
Το Radar πυρκαγιάς είναι μια εφαρμογή που δίνει δορυφορικές πληροφορίες σχετικά με τις ενεργές και πρόσφατες καύσεις. Στόχος του είναι να βοηθήσει τους ανθρώπους να λαμβάνουν αποφάσεις πριν προχωρήσουν στο δρόμο.
Αν έχετε οποιαδήποτε ερώτηση υποστήριξης ή θέλετε να επικοινωνήσετε με τον προγραμματιστή, απλώς στείλτε μήνυμα στο 7redbits@gmail.com.
—
iReport Fire est une application qui fournit des informations satellites sur les brûlages récents et actifs. Il vise à aider les gens à prendre des décisions avant d'aller sur la route.
Si vous avez une question de support ou souhaitez contacter le développeur, envoyez un courriel à 7redbits@gmail.com.
—
火雷达是一种应用程序,可提供主动和近期燃烧的卫星信息。 它的目的是帮助人们在路上做决定。
如果您有任何支持问题或想联系开发人员,只需邮寄至7redbits@gmail.com。
—
Thank you for downloading the app.